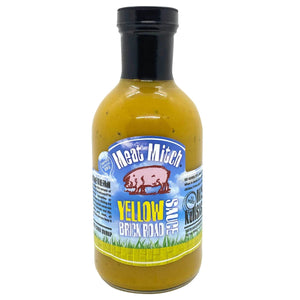 NO FRUC'N CORN SYRUP!
GLUTEN FREE!
YOU DON'T HAVE TO BE FROM KANSAS to enjoy this tornado of flavors! I'm not sure if I'm tasting sunshine, moonshine or mustard. I just know I'm clicking my heels with joy! This golden sauce can be used to grill, marinade and dip. Chicken, turkey, pork, steak, all veggies…just make sure you keep it off of Toto!

SO GOOD, IT'LL MAKE YOU SQUEAL! Just follow the yellow brick road! When in doubt, JUST ADD SAUCE! Use it for ribs, steak, brisket, pork, foie gras, chicken, 9 irons, eggs, chili, your mother-in-law, use it to water flowers. WHOMP!
Ingredients: Mustard (distilled vinegar, water, #1 grade mustard seed, salt, turmeric, paprika, spice, natural flavors and garlic powder), honey, brown sugar, apple cider vinegar, sugar, tomato paste, water, white distilled vinegar, salt, paprika, granulated onion, chili powder, worcestershire (distilled white vinegar, garlic, molasses, onions, salt, sugar, water, cloves, natural flavorings, tamarind extract), liquid smoke (water, natural hickory smoke), vanilla extract, cayenne pepper, black pepper, spices.

Refrigerate after opening