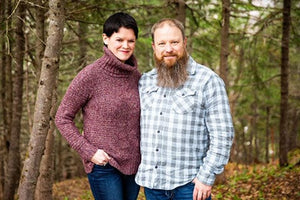 Juniper BBQ Scraper was originally created to provide a safe, 100% natural, bristle brush alternative.
WE KEPT HEARING HORROR STORIES ABOUT PEOPLE FINDING WIRE BRISTLES IN THEIR FOOD, GETTING CAUGHT IN THEIR GUMS OR EVEN WORSE, INGESTING THEM. THESE STORIES PROMPTED US TO TRY AND FIND A SOLUTION, AND PREFERABLY ONE THAT WAS LOCALLY PRODUCED. WE COULDN'T FIND ANY QUALITY ALTERNATIVES OUT THERE THAT WERE NATURAL, LOCAL AND SAFE, SO WE DECIDED TO DEVELOP OUR OWN.
jason & jackie janes, co-founders

Juniper BBQ Scraper is truly committed to producing superior quality products, hand-crafted with pride and care by our dedicated team in Newfoundland and Labrador, Canada, using the finest of sustainable hardwood. Production is controlled for quality from start to finish, to ensure each product receives the Juniper BBQ Scraper stamp of approval.
As proud Canadians we understand and take our responsibility to the environment to heart. That is why we made the decision to develop our products using juniper (tamarack) harvested from sustainable forests right in our own backyard. From our manufacturing process, to packing and shipping, each step of our production is optimized with protecting the environment as our top priority.