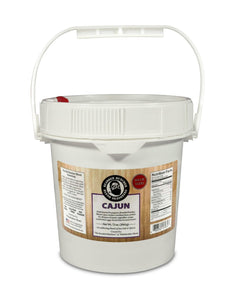 Cajun Seasoning at its Finest
Robust flavor profiles have brought Cajun cuisine to the forefront of the culinary world. Expand the reach of your spice rack by including our Bearded Butcher Blend Cajun seasoning. Medium heat and a multi-layered staircase of flavor, our Cajun pepper seasoning has just enough back-of-the-throat tickle to transform your taste buds from bland to BAM!

Our Bearded Butcher Blend Cajun seasoning was meticulously designed to be the perfect marriage of flavors.
This peppery seasoning is ideal for:
Soup seasoning.

Salad seasoning.

Seafood seasoning.

Chicken seasoning.

Fish seasoning.
With an endless variety of potential, it could also work great as chicken salad seasoning or salsa seasoning to give them the kick you have been looking for.

Redefine your palate and step into the forefront of culinary innovation today. Our unrivaled Cajun spice will take your cuisine from mediocre to out of this world, in seconds. Its complex, yet simple flavor profile will complement just about any meal. Experiment with the impact of our sugar free seasonings and discover secrets of the trade that culinary experts around the world use every day.

We are The Bearded Butchers, and we take immense pride in delivering the highest quality ingredients in a timely fashion. Our approach to cuisine is calculated and our flavors are deliberately built to take your meals to the next level. We have created a robust solution to any and all Cajun foods that may need a subtle kick to bring meals from boring to bomb.

Our Bearded Butcher Blend Cajun seasoning is guaranteed to be sugar free, free of anti-caking agents, and have no MSG. Our guaranteed gluten free seasonings are safe to consume. We source only the highest quality ingredients. We are dedicated to providing consistent products that always live up to the standards of our consumers. After all, without you, there is no us.