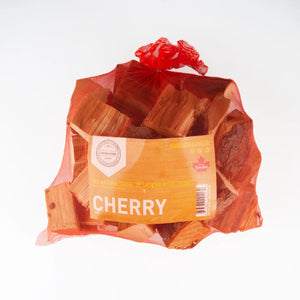 Furtado Farms Cherry Cookwood Chunks will be your Charcoal BBQ's best friend. By just adding a chunk or two to hot coals you can add a medium sweet smoky flavour to your BBQ that leaves a great smoke ring and adds colour to your meat.
Cherry is great with beef, pork and fish. It's often blended with other woods for an extra depth of flavour.

Our Cookwood Chunks are:

100% natural Ontario wood.

Locally and sustainably sourced.

Perfectly seasoned and not kiln dried for optimum flavour output.

Hand selected, hand cut/ split, hand packaged for highest quality.

We take our wood seasoning extremely seriously...
No Half Measures. No Cutting Corners. No Exceptions.