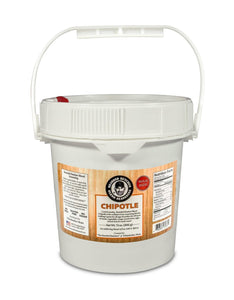 Chipotle Seasoning that Makes Mexico Jealous
A cornerstone of flavor, chipotle is known around the world for its relatively mild, but earthy spiciness. Oftentimes used in Southwestern and Mexican cuisine, chipotle chilis are versatile and robust. Our Bearded Butcher Blend Chipotle seasoning will quickly become a staple ingredient in your home cooking. This smoky paprika chipotle seasoning is the addition you have been looking for.

At its core, chipotle is actually dried, smoked jalapeno peppers. Its distinctive taste is a quintessential flavor to Southwestern and Mexican cuisine. Its bite is mild but its impact is powerful. Adding our Bearded Butcher Blend Chipotle seasoning to your spice rack will set you apart from the rest of the pack.

This smoky profile is perfect for:
Sauces.

Aioli seasoning.

Sandwiches.

Grilled Cheese.

Soups.

Popcorn.

Meats.

Homemade Jerky
Whether you are making pot roast from scratch for family night or looking to impress at a local function, our gluten free chipotle seasoning is the ingredient you have been missing.
Use it as:
Grilled chicken seasoning.

Grilled shrimp seasoning.

Grilled salmon seasoning.

Grilled cheese seasoning.
Up your culinary game by experimenting with our seasoning to witness the intense difference the right spices make. In a consumer's world, it can be difficult to gauge which products are worth it. We are confident that ours is not only worth it, but will become a staple in your spice rack. You will never look at food the same again after experimenting with this sugar free seasoning.

We are The Bearded Butchers, and we take pride in providing only the highest quality ingredients. We've meticulously crafted all our spices to meet or exceed industry standards. Our quality control process ensures consistent products. Bearded Butcher Blend Chipotle is sugar free, and free of anti-caking agents with no MSG. It is also guaranteed to be gluten free.
Quick to become a family favorite, Bearded Butcher Blend Chipotle seasoning is cool and smoky, making your taste buds tingle like you're at a backyard campfire or watching the sunrise on a mountain morning!