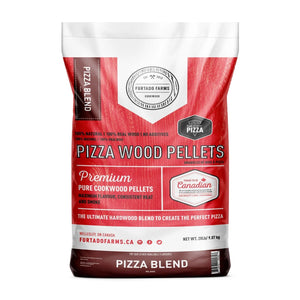 Furtado Farms Pizza BBQ Wood Pellets are specially formulated to help you cook the perfect pizza on pellet-fired pizza ovens.
Our premium blend generates optimal temperatures while still infusing that great authentic wood flavour into your cooks that we're known for.

All of our pellets are:
100% Natural
No artificial flavours of any kind
No binding substances, chemicals or glue
No scraps from sweeping the floor at the end of a hard day in the shop
Nothing but pure, clean, quality wood!
Our pellets have been tested on nearly every available pellet grill on the market today and they work in ALL of them.